Agua Caliente Cultural Plaza will be hub for cultural tourism
The new Agua Caliente Cultural Plaza under construction features a new Agua Caliente Cultural Museum, The Spa at Séc-he that celebrates the sacred Agua Caliente Hot Mineral Spring, a Gathering Plaza, gardens and an Oasis Trail. The new cultural plaza is located at the corner of N. Indian Canyon Drive and E. Tahquitz Canyon Way in downtown Palm Springs.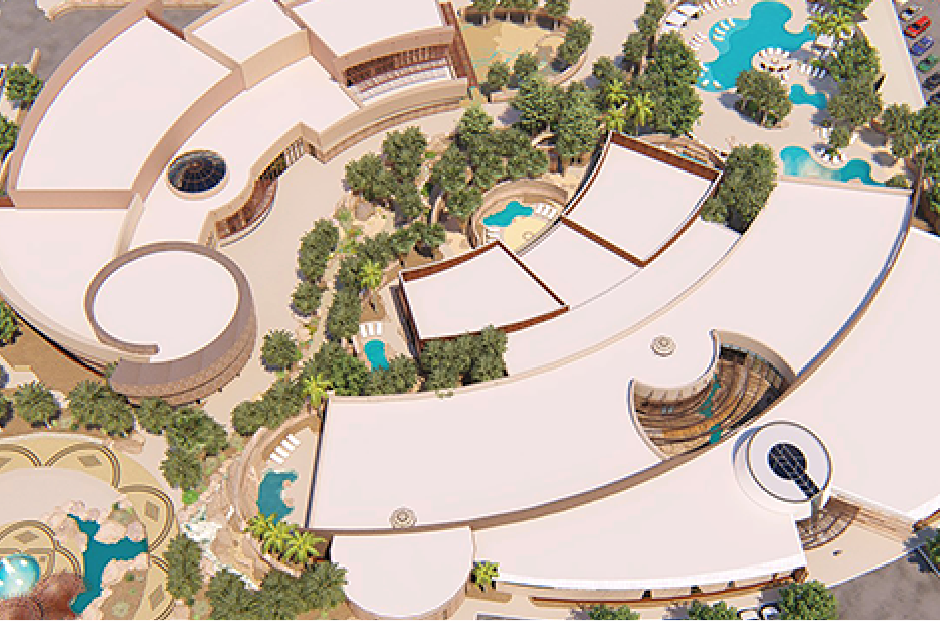 Inspiration for the Cultural Plaza's design includes Agua Caliente traditions such as basket weaving and pottery (ollas) and elements found in nature including desert landscapes, Andreas Canyon rock formations, the Andreas Canyon stream and the Washingtonia filifera palm trees – the only native palm tree to the California desert. JCJ Architecture, of Phoenix, is the project designer. Penta Building Group is the general contractor. JCJ Architecture's design concept for the cultural center reflects the Tribe's values and ongoing commitment to the Agua Caliente people.
In addition, the center draws upon the rich history of experiencing the healing mineral water. The Cultural Plaza includes numerous outdoor activity spaces, including a Gathering Plaza adjacent to the Agua Caliente Hot Mineral Spring, originally known as Séc-he (the sound of boiling water), which serves as a commemorative focal point for the new development. Here, tribal members and visitors can celebrate community, history and pay respect to the life-giving waters that helped shape the Palm Springs region. Visitors can readily access the Gathering Plaza along landscaped terraces and pathways that serve as an extension of the Gathering Plaza.
An interpretive green belt, the Oasis Trail, meanders through the property and provides an interactive, cultural learning environment. This trail recreates, on a smaller scale, the distinctive character, geology, flora and beauty of the nearby Indian Canyons, one of the ancestral homes of the Agua Caliente.
The new Museum includes approximately 48,000 square feet and will feature collections in a main gallery, changing gallery and art gallery. The new Museum, a repository for cultural artifacts, stories and history, will also include an education center and garden. The spa includes approximately 40,000 square feet to celebrate the ancient healing waters of the Agua Caliente Hot Mineral Spring with treatments rooms, men and women's bathhouses, a tranquility garden, a salon, fitness center and outdoor mineral pools.
The water from the Agua Caliente Hot Mineral Spring is estimated to be upwards of 12,000 years old and is truly unique as it contains a mineral make-up that has not been found anywhere else in the world. The Tribe has shared the healing water with visitors for more than 120 years, and the hot spring was the first tourist attraction in Palm Springs. This new spa will be the fifth bathhouse or spa at the site, with the first one operating in the late 1880s.
---